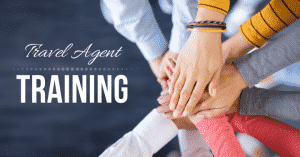 Whether you are a brand-new travel agent or exploring starting your own travel agency, it's important to learn about different travel suppliers, so you can help your clients find the trip that is best for them. You can never be expected to know everything about every travel vendor, but you should at least know where to go or who to ask to find more information. Expanding your knowledge about different travel suppliers and forming relationships with them will ultimately help you provide better service to your clients.
Learn Through Training Courses
As a travel advisor, you want to plan the best vacation for your clients with the best vendors. There are many packages, amenities and programs you can offer your clients. As a new advisor, you want to learn as much as possible, so you have the knowledge to recommend the right trip to the right client.
Many of the well-known travel suppliers offer brand-based training courses. For example, many of the major cruise lines offer online travel advisor brand training. The educational platforms can offer visual, interactive and sometimes even a mobile-friendly approach to learning all things related to their brand. Resources like this offer up-to-date information about brand itineraries, features, services and tools. These programs are typically taken at your own pace, so if you prefer to knock it all out in a couple days or a few weeks, it's up to you.
By completing these courses, you gain a mountain of knowledge you'll use throughout your career as a travel advisor. Select vendors also offer a free trip upon completion of the course. The goal is to get you on their ship or in their hotel to enjoy the experience for yourself so you can better sell it to your clients.
Should you choose to start a travel agency franchise, Cruise Planners offers travel advisors plenty of additional training not only when you begin your travel business, but also continuous training throughout the year. Do you enjoy learning on site? We have summits, conventions and more—all designed to provide you the training and resources needed to run a successful business.
Connect with Your BDM
BDM stands for a Business Development Manager. When you're starting a travel agency, these people will be your main point of contact with suppliers. Almost all travel vendors have BDMs available to assist and support you. A common goal of a BDM is to establish and support the growth of local, home-based travel agencies. That means anytime you have questions about accommodations or processes with their brand, they will be ready and happy to help—after all they want YOU to sell their products.
Most travel suppliers have regional territories, so where you live or if you are with a national franchise may determine who your BDM is and the level of support. It's a good idea to determine who your BDM is for each supplier, and reach out, introduce yourself and establish this relationship early on.
Get Out and Travel!
What better way to build your mental library of travel knowledge than to experience it yourself? It's one thing to attend a cruise line's educational academy, but to actually go visit destinations yourself is a whole new world—seeing is believing! Some of the most successful travel agents are the ones who have traveled the world. Traveling is a perk of the job.
When clients ask you about certain destinations, they want to hear about it like you really know the place. If you travel there and experience the area, you can give great advice about what company to travel with as well as personal details from your trip, like the café down the street from the hotel in Milan that serves Italy's BEST gelato. Giving these personal tidbits of advice reassures your clients of your knowledge and helps you stand out as a truly fantastic advisor.
An awesome perk of being a travel agent is that you get access to industry discounts and familiarization (FAM) trips that are free or heavily discounted by the brand offering the trip. These trips are exclusive to travel agents, although you can sometimes bring a guest along. The goal is for you to experience the brand first hand, get to know the supplier, all they have to offer and eventually recommend the brand for the right client.
When starting a travel agency, traveling is a win-win for both you and your clients. You become the expert and a go-to resource for booking vacations.
Leverage Powerful Partnerships
Cruise Planners has been the leading travel franchise for over 25 years. We've built powerful partnerships with hundreds of top travel suppliers, including cruise lines, resorts and tour companies, that let you gain access to lower prices and higher commissions. With Cruise Planners, you aren't starting from scratch. Hit the ground running and leverage our powerful partnerships to grow your successful travel agency.