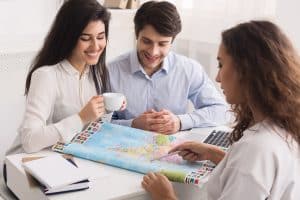 While starting your own travel agency may seem like a daunting task for any new travel agent, with the proper resources, it doesn't have to be. We have many published resources available to you that go in depth about marketing and running your business.
Finding clients boils down to a few key objectives:
• Where you decide to advertise your travel business
• Figuring out what market you best serve
• Identifying a travel niche, you want to service
• Expanding your network
It's no small task starting your own business. One of the most frequently asked questions is, "After I start a travel agency, how do I find clients?" We are here to show you the way.
Start Within Your Circle
The best place to find clients when starting your own travel agency is closer than you may realize.
First, ask yourself these questions:
Do I have neighbors who recently went on vacation?

How about friends who love travel – even long-lost Facebook friends?

Am I typically the one family and friends come to for travel advice? (You can now stop giving all that knowledge away for free.)
Your friends and family are already traveling –you just have to get them to buy through you . The people you already have relationships with is the best place to begin finding clients to kick-start your business. Family, friends and neighbors are people within your circle who already know and trust you.
One of the biggest challenges when opening a travel agency is establishing credibility. If your business is new, how do potential clients know you're a reliable and trustworthy travel agent? Starting with people who already know you is a good way to get your feet wet, establish credibility and start growing your client network.
Not only do family and friends offer a great start to gaining clients when you start a travel agency, but they also reap long-term benefits. Word of mouth is the greatest referral service. Once you plan your neighbors' trip and they return from the best vacation ever, they will tell their friends. Then once their friends call you to book their vacation, they will tell their family and friends. The trend continues and from there your network strengthens to an array of adventurous, travel-happy clients.
Discover Your Niche
There are many travel styles and interests within the tourism industry. The places to see and things to do are endless. Becoming a travel advisor who's knowledgeable about everything travel can be difficult—It's up to you to find your niche.
Some niche travel styles include:
• Family travel
• Land vacations
• Luxury travel
• Cruising
Focusing on a specific niche allows you to become an expert in an area and better target clients. Your advertising efforts can be pinpointed, tapping into tightknit communities and targeting specific travelers.
Success comes from knowing your niche and being able to market to the sector that enjoys that niche. If you find that many of your clients are booking cruises, and that's where your profit mainly comes from, then it's clear you should focus your energy on learning about the cruise lines and what you can offer to your cruise-going clients. Once you specialize in a niche, you can effectively target those potential clients and find even more clients.
Use the Power of Community
When starting a travel business, it's important to leverage your community to find clients. Communities remain traditional networking gems. They act as tightknit referral networks where trust and communication are driving forces. Word of mouth marketing within local communities is an organic way of spreading information. It uses components of viral marketing, though unlike viral marketing, it spreads by natural channels.
Meeting people face-to-face has a strong value. Most communities have town hall meetings, parent teacher associations, religious groups and sporting events. Getting involved with your community gets your name out and gives you the opportunity to introduce your travel agency business. You can carry business cards or create a QR code so potential clients can quickly save your contact info and contact you to plan their next vacation.
Another way to network yourself when starting a travel agency is through Business Network International (BNI) groups. Members meet weekly to support each other by sharing referrals. This is a great way to support your community while increasing your travel agency exposure. Whether you are in California or on the east coast in New York, there are BNI chapters in all 50 states with 254,206+ members worldwide.
Do You Prefer Connecting Digitally?
Facebook and LinkedIn have millions of groups to join. It's a smart idea to join groups that you enjoy. Whether it be a local mom group, teachers networking group or golf enthusiasts make sure it's an interest of yours so you can develop genuine connections and then introduce your business.
There are many ways to get your name out while starting a travel agency. It's all about how you strategize and present your business to the world. A good rule of thumb when making connections to find clients is to be intentional and add value to that person's life. If you help them, they will want to help you in return.