Your clients aren't the only ones who get to have all the fun when you're a travel agent, you do too. With all of the travel agent training provided by Cruise Planners, travel experience isn't required to become a Cruise Planners travel agent franchise owner, but firsthand travel experience will help you stay at the top of your game.
Best Reasons to Become a Travel Agent
Not only is traveling one of the best reasons to become a travel agent, it's also much more affordable for you as a travel agent. So, what are some of the travel perks associated with being a travel agent?
FAM Trips: Familiarization trips (known as FAMs) are one of the best ways to dive into your new career as a travel agent. On these trips, you'll usually travel with the travel partner to a resort, destination or on a tour as you learn more about the product and how to sell it to your client. You may pick up a few tips that turn you into an expert along the way, such as what is it really like to travel on an escorted tour or what the difference is between all the room categories at an all-inclusive resort.
Travel Discounts: As a Cruise Planners travel agent, you'll be able to make hotel reservations, go on cruises, pre-arrange airport parking, visit theme parks and so much more for reduced rates or sometimes even totally for free. Often times you'll earn these perks after completing a travel partner's training, which gives you a ton of information you'll use to sell that product. These discounts are a way for brands to say "thank you" while also helping you experience the product. The more you sell, the more you may earn.
Elite Summit Trips: At Cruise Planners, your success doesn't go unnoticed. We invite our Top Producing travel agents on Elite Summit trips each year. In 2018, travel agents traveled with CEO Michelle Fee and COO Vicky Garcia, along with travel industry partners, to Machu Picchu and Cancun, Mexico.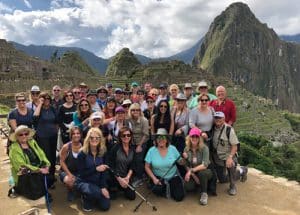 Cruise Planners Convention: We make sure our travel agent convention and conferences have some travel experience – and of course, a lot of fun – packed in. In 2017, we hosted Convention in Cancun, Mexico at an all-inclusive resort, reaffirming our prowess in land travel, and in 2018, we sailed on the inaugural of the Norwegian Bliss for Mid-Year Conference and we'll sail on the inaugural of the Celebrity Edge in December of Convention.
Trainings and Forums: Trainings aren't just all learning and no play, they're actually a great way to connect with peers and travel partners, learning about a world of travel possibilities and experience a new destination. Cruise Planners travel agents attend annual trainings such as CLIA Cruise 360 and the American Express Forum.
You may be asking, "With all this travel, how will I run my travel agency business while on the go?" Well, thanks to Cruise Planners proprietary travel technology, you can work from anywhere, so you can assist your travel clients and manage your business while sipping a daiquiri from your resort balcony in Mexico or anywhere your travels may take you.
Find out how to start a travel agency franchise with Cruise Planners®, an American Express Travel Representative, and make your travel dreams come true.