Why This Women-Owned Company Values Leadership, Teamwork and Diversity
Over the years, our home-based travel franchise business model has evolved, but one thing remains constant: Cruise Planners has stayed true to empowering and embracing everyone, including women. Leadership, teamwork, diversity and charity all remain true to our core.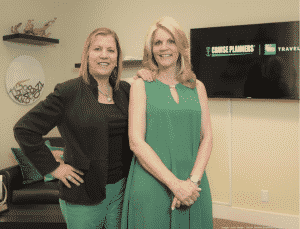 Cruise Planners CEO and Founder, Michelle Fee, and COO and Co-owner, Vicky Garcia are known throughout the travel industry for their vivacious spirits, winning attitudes and of course, incredible friendship.
At Cruise Planners, women hold 65% of our leadership roles and are the majority owners of our company and franchisees predominantly have a woman as a part of the franchise. Having women in such influential leadership roles doesn't go unnoticed and it's earned us a few awards:
EY Entrepreneur of The Year® 2016 Award for Hospitality and Leisure in Florida – awarded to Michelle Fee, CEO and Founder
Top Franchise for Women – Franchise Business Review
Cruise Planners Home Office Team named Management Team of the Year – Stevie Award
"Cruise Planners continues to be the round peg in the square hole, and we celebrate standing out because we do things differently. It's our secret sauce in a sea full of sameness," said Michelle Fee, Cruise Planners CEO and Founder.
We pride ourselves on being the best, not just as a travel franchise, but as people and that includes both women AND men. Choose entrepreneurship and choose Cruise Planners. Welcome to our CP Family!