Cruise Planners: The Franchise Company Where Innovation is a Way of Life locks in prestigious travel industry accolade for martech advancements benefiting travel agents **
Coral Springs, Fla. – April 20, 2018 – Cruise Planners®, an American Express Travel Representative, has a nearly 25-year legacy of being a leader in creating the innovative marketing and technology tools that drive sales, so its national network of travel agents can successfully work from home or while traveling the world. At Cruise360 in Fort Lauderdale, Fla., Cruise Planners' technology advancements once again earned the highest industry recognition, this time receiving the prestigious CLIA's Hall of Fame Travel Agency Innovator Award.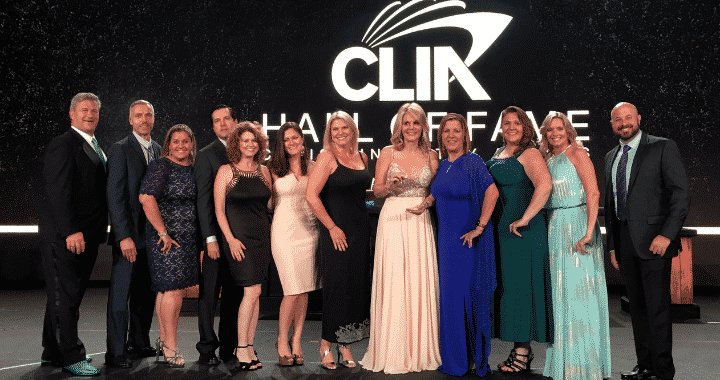 Cruise Planners is celebrated once again for innovation earning the CLIA Hall of Fame Travel Agency Innovator Award. The Cruise Planners leadership team accepts the award at Cruise360 in Fort Lauderdale, Fla on April 19, 2018.
"At Cruise Planners, our vision is to create innovative marketing and technology tools and programs designed to help our travel agents stand out in a busy marketplace," said Michelle Fee, CEO and Founder of Cruise Planners and past CLIA Hall of Fame honoree. "We have the most creative and collaborative team in the industry who are building things others haven't even dreamt of."
The Hall of Fame award, celebrates Cruise Planners' comprehensive martech suite – a true blend of marketing and technology – and includes the following features for home-based travel agents:
Martech Platform: CP Maxx™, an enhanced "work-from-anywhere" technology platform built from the ground up, which serves as an innovative booking tool, Customer Relationship Management (CRM) system and insightful marketing platform. Through the tool, Cruise Planners travel agents have access to intuitive and hands-free marketing, reporting tools and proprietary technology for business efficiency. Travel agents have loved this new system since it was made with their feedback and addresses their most pressing needs.
Voice-Activated, Artificial Intelligence: Cruise Planners was the first home-based franchise to develop two Alexa skills; one for Cruise Planners agents and the other for their travel customers. Developed in-house by Cruise Planners' award-winning technology team, the Alexa skills are designed to be yet another great benefit of working with a Cruise Planners travel agent.
Mobile Technology: Cruise Planners has both a consumer and travel agent mobile app (Android & Apple) so agents can run their business from anywhere in the world. Clients can access their My Trips portals to view their trip and profile information, purchase shore excursions and trip insurance.
High-Impact Tools: Cruise Planners cruise travel sales have grown by nearly 20 percent for the second consecutive year while the number of passengers departing in 2017 also grew into the double digits from 2016. Since CP Maxx's launch in 2017, Cruise Planners' agents have seen boosted sales, increased ROI on supplier's marketing co-op funds and strengthened client relationships through highly efficient and targeted marketing insight for travel agents, allowing travel agents to market more effectively to their clients. For example, agents can view past travel purchases and create highly effective marketing campaigns using segmented, third-party behavioral data. All of these innovations give travel agents the data needed to anticipate client buying habits and the ability to target the right clients with the right cruise product.
Training on Tech: Recognizing that people learn in different ways, Cruise Planners continues to invest in travel agents' comprehensive understanding of CP Maxx and turning even the most technology-challenged cruise counsellors into "techsperts" through a variety of training options.
"We are committed to our travel agents and will continue shaping the travel industry by challenging the idea that online booking saves time and money, making sure the value of a travel agent is never underestimated," Fee said. "Our team keeps pushing boundaries to bring our ideas to life while our agents flourish in business. I couldn't be prouder to lead such a passionate team."