Cruise Planners provides LGBTQ-focused marketing materials to help franchise owners and travelers provide inclusive marketing
Cruise Planners continues to be an energetic advocate for the LGBTQ+ community, with membership in both the International Gay & Lesbian Travel Association (IGLTA) and Greater Fort Lauderdale Gay & Lesbian Chamber of Commerce (GFLGLCC), and a seat on many cruise line and travel advisory boards as a strong supporter of the LGBTQ+ community.
Cruise Planners Personal Connection to the LGBT community
In 2015, Cruise Planners COO and co-owner Vicky Garcia renewed her vows with her wife along with 100 other couples at the Greater Fort Lauderdale Convention and Visitor Bureau's "Love is Love" wedding ceremony celebrating legal gay marriage in Florida. At the event, Cruise Planners partnered with Celebrity Cruises to provide a honeymoon cruise giveaway for one lucky couple.
In 2018, Cruise Planners Home Office Team member Francisco and his husband Ben became the first same-sex couple to legally marry at sea when Celebrity Cruises chose them to hold their nuptials on board Celebrity Equinox, an exciting event celebrated throughout the cruise industry.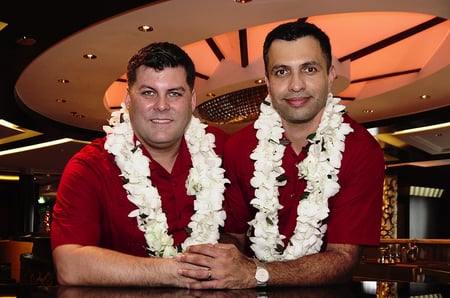 LGBTQ+ friendly marketing materials to help boost travel sales
Cruise Planners has a variety of marketing items available to help reach the LGBTQ+ market including:
Customizable postcards
Free downloadable personalized ads in every size for publication
Free eCards with LGBTQ-focused imagery
Inclusive imagery throughout CP materials, including wedding/honeymoons. We proudly incorporate bride/bride, groom/groom imagery and gender-neutral imagery so that marketing is relevant for all audiences
LGBTQ Travel Style data capture for list segmentation
And…an LGBTQ version of the Cruise Planners logo for agent use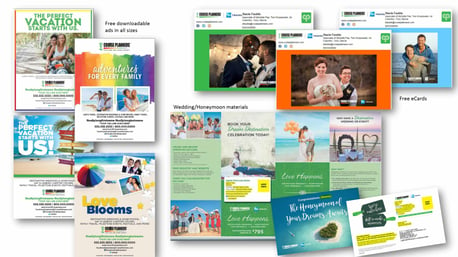 Many Cruise Planners travel advisors and their clients support the LGBTQ+ community by attending pride events around the world, and with the understanding and agreement that LGBTQ+ travel is not just LGBTQ-specific events but rather personal exploration of global destinations as stated in Travel Age West: "Agents should be utilizing the globe and sending LGBTQ people everywhere — not boxing them in and treating them as if they are different than a straight couple. As I travel the globe with my husband, we travel to see the world, not to see other gay people."
Cruise Planners agents also have access to booking Atlantis Events, RSVP Vacations, Olivia travel and Brand G tours for LGBTQ groups. Also, Cruise Planners packaged vacation providers such as Classic Vacations, Pleasant Holidays and Delta Vacations sell LGBTQ+ friendly properties for travel agents to sell for individuals and groups.
Talk with one of our Franchise Development Managers about turning your passion for travel into a career by owning Cruise Planners home-based travel franchise.