From video marketing to automatic technology programs and creative marketing campaigns, Cruise Planners shines again
With nine Travel Weekly 2018 Magellan Awards to add to its awards shelf, Cruise Planners, an American Express Travel Representative, continues to pave the way for franchise companies as a MarTech powerhouse. These awards represent the combined efforts of Cruise Planners' internal Marketing, Technology, Business Development and Training Teams who work with Cruise Planners' nationwide network of travel advisors to develop the tools travel advisors need to be competitive in the travel industry.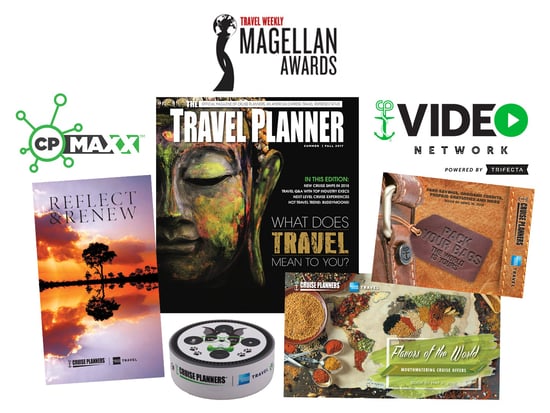 "We see our different departments as one cohesive Home Office Team and their strengths in collaboration and development lead us to be ahead of the curve in MarTech and the recipient of nine prestigious Magellan awards," said Vicky Garcia, COO and co-owner of Cruise Planners. "We continue to thrive and be inspired because of our incredible travel advisors who hit the ground running with every new tool we give them."
Cruise Planners MarTech Magellan Awards:
Gold Awards:

Marketing Campaigns:

Pack Your Bags, the World is Yours – Direct mail and digital campaign highlighting cruise and land vacations in bucket-list destinations around the world
Reflect & Renew, Direct Mail – Luxury travel campaign featuring Cruise Planners' top high-end land-based vacations
What Does Travel Mean to You? – Cruise Planners Summer 2017 Travel Planner magazine focusing on travel experiences with exclusive offers, editorial, interviews with industry executives and more

Client Newsletter: Cruise Planners weekly Travel Deals email newsletter featuring cruise and land travel offers
Website Marketing: CP Video Network powered by Trifecta in partnership with Cruise Planners hosted on travel advisors' websites with customizable end tags filmed unique to each travel advisor
Travel Agent Innovation: Two Alexa Skills for Cruise Planners travel advisors and consumers

Silver Awards:

Marketing Campaign:

Where Will Travel Take You? – Destination-focused campaign featuring offers to coincide with Cruise Line Industry Association's Plan a Cruise Month
Flavors of the World – Foodie-themed cruise multimedia campaign featuring culinary experiences and shipboard recipes to inspire travelers to "get whisked away" and take advantage of "mouthwatering offers."

Travel Agent Innovation: CP Maxx booking and management system for travel advisors integrated with major cruise lines and tour operators
What is MarTech?
MarTech – the intersection of marketing and technology – is the blending of two essential business tools to grow Cruise Planners travel advisors' sales by making marketing efforts more effective using time-saving, intuitive technology while increasing the level of customer service and human connection travel advisors are able to provide. Cruise Planners has recently won multiple awards for its MarTech initiatives including the CLIA's Innovator of the Year Hall of Fame Award and the International Franchise Association's FranTech Award for Innovation.
How does MarTech benefit travel advisors?
Cruise Planners uses technology to make travel advisors' marketing efforts more targeted and therefore more effective. When sending a direct mail piece, such as the winning "Reflect & Renew" luxury land travel piece, Cruise Planners travel advisors log into CP Maxx, a proprietary booking and management system, through which they can view their segmented lists of luxury clients as determined by CP Insights. CP Insights is designed to choose the right clients for each marketing piece based on previous purchases coupled with psychographic and demographic details allowing each campaign to reach clients with relevant, customized travel offers. All of Cruise Planners tools integrate seamlessly, making their combined usage simple and quick for the travel advisor.
"Cruise Planners is always moving forward with new tools such as voice-activated Alexa skills but also stays committed to what we know works such as beautiful direct mail pieces sent to our agents' clients' mailboxes," Garcia said. "Travel is a unique industry and each year brings with it new trends and challenges our travel advisors and Home Office Team take on as they lead the way in making customers' travel desires an incredible reality."
Cruise Planners travel advisors and Home Office Team will come together for its annual Convention November 26-29, 2018 in Hollywood, Fla. followed by an inaugural sailing on the new Celebrity Edge. where agents will receive the latest updates on and hands-on training with Cruise Planners MarTech advancements.