Cruise Planners' corporate website offers travelers an easier way to plan travel and find a local a travel agent to book travel. CruisePlanners.com is designed to be the go-to for travelers around the country seeking travel information and looking to connect with a professional travel advisor to book their vacation, group travel, resort & hotel vacation, destination wedding, and many other vacation ideas. Since Cruise Planners does not book travel at its corporate office, all website visitors and leads are directed towards travel agents that have invested in a Cruise Planners travel agency franchise.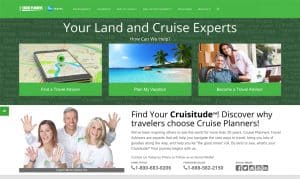 Lead Generation for Travel Agents
"CruisePlanners.com was designed to showcase the travel advisor services that are offered by our franchisees, highlighting that our full-service travel agency's sell all types of vacation experiences," said Michelle Fee, CEO and co-owner of Cruise Planners.
Features of the website include:
Lead-generating opportunities for travel franchise owners. The lead generating process uses geotargeting to match travel clients with the right travel advisor, based on the agents' current online availability. These hot travel leads include details of the trip clients have searched for and selected, allowing agents to close the sale quicker.
Agent profile listings. All agents can customize their travel agent profile page on the corporate website, increasing Cruise Planners' local search visibility using geotargeting technology.
Exclusive travel deals. Now more prominent, the weekly travel deals featured on the website are exclusive Cruise Planners offerings such as added or upgraded amenities and reservation discounts not available through other online travel retailers.
SEO-rich text. The SEO content helps drive web traffic for all target markets including travel consumers and those looking for information regarding travel agent services.
"The main benefit of the new site is the convenience of immediately connecting travelers with the right travel advisor," Fee said. "Consumers want an on-demand way of making a human connection, which results in superior service – this helps bridge the high-tech world with the human touch that can only come from a personal travel advisor."
Once a traveler has started working with a Cruise Planners travel agent, technology continues to play an important role. For example, agents will be able to send their clients digital trip summaries within minutes of connecting with them, simplifying the process of booking family vacations, group travel, weddings, corporate travel or even weekend getaways.
"Cruise Planners always creates the best travel marketing tools with the travel advisors and travelers in mind," said Monica Brown, franchise owner based in Bradenton, Florida. "Enhancing the corporate site can increase the amount of leads we receive as franchise owners and I look forward to helping grow my travel client base."
Become a Travel Agency Owner
If you're an entrepreneur who's interested in starting your own company, without the hassles and obstacles that most small business owners face, Cruise Planners is the opportunity for you. Get more information on our low cost franchise opportunity where you make the hours, you make the decisions, you make the money, and you control your life! Join us for one of our free upcoming travel agency webinars.