Start business ownership off on the right foot: Join the franchise company with the strongest travel industry partnerships

As a Cruise Planners franchise owner, you're starting off your travel business with credibility and name recognition, not just from our American Express Travel affiliation, but also with our longstanding excellence with our travel partners. Cruise Planners recently took home three top sales awards from Carnival Corporations' largest brands: Holland America Line, Carnival Cruise Line and Princess Cruises.
Holland America Line – Founder's Award Winner, their highest honor
Carnival Cruise Line - Franchise of the Year, following up last year's Ted Arison Founder's Award win
Princess Cruises – Franchise of the Year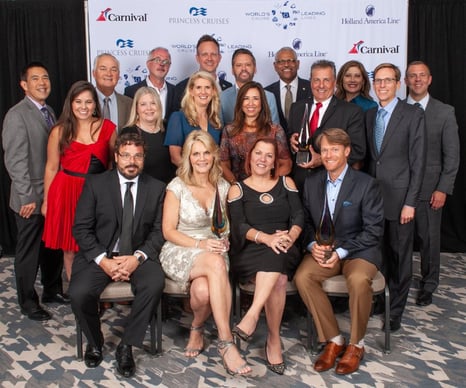 In this arena, Cruise Planners continues to outshine travel franchise competitors as Cruise Planners was the only home-based travel company honored. These strong partnerships are so valuable to the success of Cruise Planners and our franchise owners, allowing us to secure the highest commissions in the industry, offer exclusive promotions for clients including special discounts or value-add amenities and giving Cruise Planners' executive team a platform to be an advocate for franchise owners like you.
Cruise Planners martech initiatives work hand-in-hand with all travel partners including Holland America Line, Carnival Cruise Line and Princess Cruises. Our travel partners are frequently included in our print and digital marketing campaigns and are synced with Cruise Planners' reservation system, CP Maxx, so travel agents can manage bookings all in one place. Cruise Planners business-in-a-box franchise model and longstanding industry partnerships are designed to help franchise owners succeed in the travel industry.
Start your successful career as a travel agent and franchise owner with Cruise Planners. Connect with one of our Franchise Development Managers today.