Cruise Planners recognized as Chairman's Award winner for the second year in a row–third time overall due to continued strong sales growth and supportive partnership
For the third time, Cruise Planners, an American Express Travel Representative, was awarded Royal Caribbean International's Chairman's Award, which is the company's highest award bestowed on their top travel partners. Cruise Planners' vast nationwide network of home-based travel advisors have had continuous, impressive sales growth for the global cruise line and the partnership has never been stronger.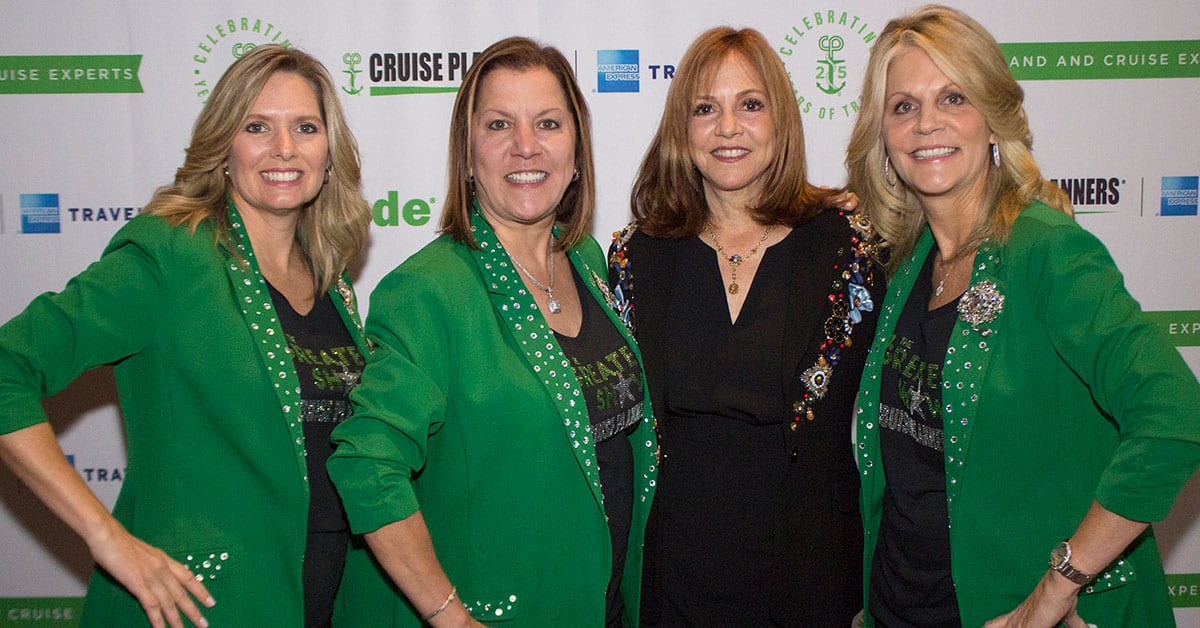 Cruise Planners, an American Express Travel Representative, earned Royal Caribbean's highest honor, the Chairman's Award, for the second year in a row. From left to right: Theresa Scalzitti, VP of Sales and Marketing at Cruise Planners; Vicky Garcia, COO and co-owner at Cruise Planners; Vicki Freed, Senior Vice President of Sales, Trade Support and Service at Royal Caribbean International; and Michelle Fee, CEO and founder at Cruise Planners.
"We are committed to our strong partnership with Royal Caribbean and are delighted they honored our advisors with back-to-back Chairman's Awards," said Michelle Fee, CEO and Founder of Cruise Planners, an American Express Travel Representative. "Year after year, Cruise Planners provides the tools and our travel advisors provide the outstanding service as we all work hand-in-hand with Royal Caribbean to attract vacationers new to cruising, retain repeat clients and upsell travelers to increase sales and earn higher commission."
Cruise Planners continues to innovate by creating new marketing and technology tools as well as maintaining a strong focus on advisors training.
"Cruise Planners is a leader when it comes to travel marketing, automation and technology for travel advisors," said Richard D. Fain, CEO and Chairman of Royal Caribbean Cruises Ltd. "Their ability to be nimble and flexible in our everchanging industry is at the core of their success as a strategic partner of ours year after year."
Some of the recent tools that help Cruise Planners advisors sell more include:
Triggered Emails: A series of automatic emails, which allow travel advisors to stay in contact with their clients after booking and through the time when they return back home from their vacation.
Hot Lists: A list of hot sales opportunities that identify clients who have milestone birthdays and anniversaries or clients who haven't made a booking in the last 12 months or who have an open onboard future cruise deposit. Travel advisors have the option of personalizing an eCard or having them automated each month.
CP Marketing Hub: An area within CP Maxx allowing travel advisors to track their marketing efforts, analyze the ROI, create and track goals and even log and track partner co-op commitments from their local BDMs.
CP Video Network: More than 20 different modern, fresh videos focusing on popular destinations and travel styles such as family, solo travelers, adults-only travel, luxury, land and much more. Cruise Planners announced adding new customization as video marketing continues to be an impactful way for travel advisors to drive sales.
Data-Driven Travel Insight: Through the brand's "Travel Styles" and segmentation efforts, advisors are able to find out more about their customers' desires for upcoming travel and better market to them. By focusing on top-performing niches, including foodies, millennials, adventure travelers and solo travelers, the brand will help advisors close more sales.
"The ways Cruise Planners engages with our sales organization day in and day out is incredible," said Vicki Freed, Senior Vice President of Sales, Trade Support and Service at Royal Caribbean International. "With a partner just as dedicated to pushing the boundaries as we are in delivering vacations, it's a pleasure to work with them as we continue to bring in new and loyal guests to sail with Royal Caribbean. The Chairman's Award is well deserved and a testament to how the teams at Cruise Planners stand out as travel professionals."
Cruise Planners has been recognized and honored by Royal Caribbean each year, but this back-to-back ranking proves Cruise Planners place is at the top.
"Our franchisees' will always be our main focus, and we will constantly operate on their behalf and in their best interest to create new programs and build new tools to keep our travel advisors at the forefront of the industry," Fee said. "The numbers prove it: our latest suite of marketing and technology tools making selling easier for our home-based travel agents and we're not slowing down."