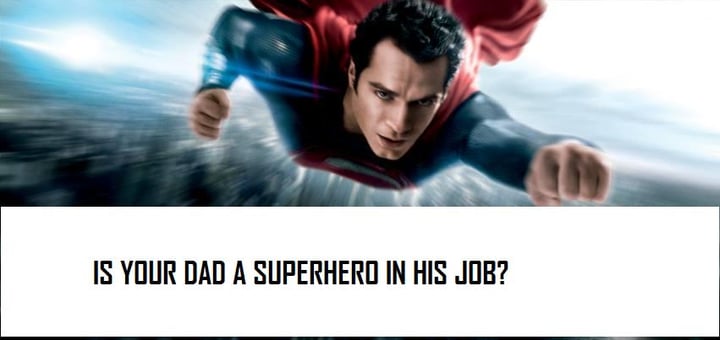 We all want to think of our Dad's as a man of power…a man of steel who has the strength to overcome all obstacles. He is the man who will soar to your defense, defend you from bullies, and become the sensitive Clark Kent you want in times of needing his support.
Many hats are worn by our Dads…"Captain of the Ship, Head of the Household, Daddy long legs, Breadwinner (one of them), Mastermind, etc., etc., etc...
For now, let us focus on the "retiring" Dad. He has worked for years in the corporate world, saw many people come and go as he advanced to management, and finally he became President of the Company. Long hours, stress and sleepless nights, working overtime and putting off vacations for work…and then finally, the time has come for Dad to retire.
Retiring is supposed to be a positive thing. However, many Dad's find themselves becoming more like the villain than the superhero as their work life subsides into boredom and too much time on their hands.
In walks the "Captain of the Ship" Dad and introduces himself to your Dad. As they share Dad stories of work-life to this stage, they had quite a few laughs, and then the talk turned serious as the Captain explained how he became a captain, cruising the seven seas.
Apparently, the Captain after years of being a Tax Consultant retired and decided to travel with his wife and family. They loved the sea and traveled quite a bit those first years of retirement. Soon, however, retiree grew restless and wanted to become involved in the cruise line world. He had heard of this franchise called Cruise Planners American Express, and wanted to investigate it to see if he might be interested in owning his own business, be his own "CAPTAIN" again, and combine work and pleasure.
He investigated Cruise Planners/American Express and found the perfect match for his expectations and wants for retirement. Oh, he continued to travel, take his family with him, and when on shore, was able to sit in the comfort of his own home and make money.
The Cruise Planners/American Express Franchise has no age requirement. It takes Dad's and Moms of any age at any stage in their life. They are the "Captain" of their own ship, their own destiny, and their own work life. It is particularly a perfect solution for the retiree who does not want to give up work entirely…after all; working with Cruise Planners/American Express is not like working at it. It is an adventure that never gets boring. In addition, you constantly meet new people and network as you travel.
A Happy Father's Day to all the Dad's out there…Sons, Fathers, Uncles, Seniors, Retirees, Graduates….just think, no matter what age, what stage in life, you can ALWAYS be the Captain of your own ship at Cruise Planners/American Express.