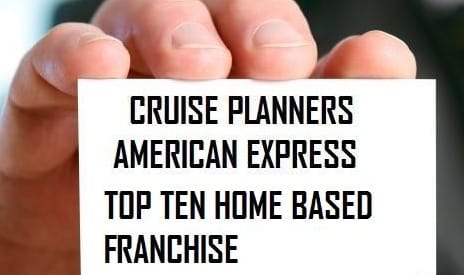 When looking for home-based opportunities, you will want to know what the top ten home-based Franchises are according to entrepreneur.com.
Their report for 2012 top franchises that can be run from home and LISTED in order of their ranking in Entrepreneur's Franchise 500 cites Cruise Planners/American Express in the top 10.While this important stat reflects one of the best business opportunities, they also indicate the need of research and backup of the company's credentials.
"This ranking is not intended to endorse, promote, or recommend any particular franchise company. Instead, it is meant to be a tool you can use while doing your personal franchise research, which should include interviews with existing franchisees, counsel from your attorney and accountant, and literature such as the Franchise Disclosure Document. As with any business purchase, a thorough, independent investigation must always be your first step toward success." Entrepreneurs Franchise 500
However, as with anything, a ranking also indicates that the business is well known, and acknowledges it as a sound one to look into for investing purposes. If anyone were looking for opportunities in a home-based business, which one would they choose, one that carries a brand name like American Express or one that says, Cruise Business. Obviously, the Brand – American Express has already proven to be reliable and sound and offers their endorsement of the travel industry and cruise-ship business.
Cruise Planners/American Express can assist you in your research. They offer a University that teaches all the basics of being in the business, they have all the literature and has done a lot of the research for you, and can help you sort through all the particulars of owning your own business.
Dare to look at all the franchises in the cruise-ship industry and you will find yourself coming back to Cruise Planners/American Express, the number one franchise, agency, and business opportunity in the market today. Ask for Dan Hicks, he will help you on the road to successful business ownership.