Cruise Planners, an American Express Representative, allows franchise owners to combine their passion for travel with the power to be their own boss and to work whenever and wherever they want. For some travel franchise owners, opening and operating their Cruise Planners franchise is a family affair, giving these travel agents the opportunity to build relationships with both their clients and each other. Terry McKinney, a franchise owner since 2011 based in Magnolia, Texas shares how running her work from home Cruise Planners franchise with her daughter Andrea Mickan, has allowed them to make a difference in their clients lives – and their own – through travel.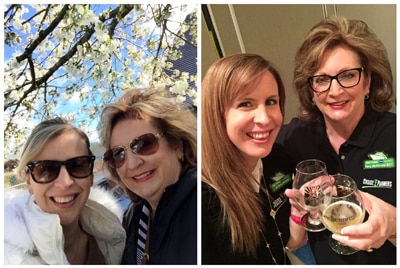 Terry McKinney and Andrea Mickan, Cruise Planners franchise owners based in Magnolia, TX.
How did the idea of entering the travel industry together come about?
I opened my business in September 2011 and knew I wanted to do trade shows to get my business name and face out in public view so I asked my daughter Andrea if she would be able to help me work at the trade shows. I immediately saw that she was a natural fit for the romance travel industry. After my asking her to join me for a couple of years, she finally said yes and made the move from her corporate America position in human resources to becoming a full-time independent contractor with my company.
What makes your daughter your ideal business partner?
Andrea loves talking to people and making people happy. She knows her products and if she isn't familiar with a particular destination, resort or cruise ship she'll research it backwards and forwards until she becomes an expert. I am so proud to have my daughter working by my side in my company.
What is the best part about being a mother-daughter team in the travel industry?
We work together in tandem, bouncing marketing ideas off one another, always working together to better ourselves and exceed our company goals, always working hard to make sure that we provide the best options to our clients and getting to revel in our successes together. We both love the romance travel industry so it's a great feeling of joy and pride when our couples get married and go from college sweethearts to parents and then being called 'Aunties' by our clients when they start having children. What a wonderful feeling to know that you've made a difference in someone's lives!
How has the Cruise Planners travel agency model allowed you to smoothly run your business together?
Cruise Planners is amazing in their support to their franchise owners on so many different levels. They truly care about our successes and are always coming up with new initiatives that serve to improve our efficiency, training, technology education and sales strategies. Andrea and I are aligned with our Cruise Planners Home Office in that we know what to expect and who to turn to in the event we need assistance or special guidance. They have our backs and we are never alone.
What's your favorite travel memory you've shared since starting your Cruise Planners franchise?
My personal favorite memory was our Mediterranean cruise to Italy and the Greek Isles. We started with a few days in Paris and toured the city as well as the Champagne Region – such a beautiful country. We traversed down to Rome and spent a few more days sightseeing and going down to the Amalfi Coast. Then we boarded our cruise ship and were rewarded with an unbelievable suite upgrade as a surprise. The entire experience, both on land and on the beautiful Mediterranean Sea, was absolutely amazing. Our travels always seem to make us better people and we love working side-by-side as a team.
With Mother's Day coming up, what vacation options would you recommend as a gift for moms and what amenities on this trip would make it special?
Providing a mother with a special trip on Mother's Day with her children creates beautiful memories that will stay with her the rest of her life. A cruise onboard the Celebrity Reflection staying in a Spa Suite – absolutely perfect; a trip to El Dorado Seaside Suites with a beautiful beach cabana and butler service in one of their gorgeous swim-out infinity pool suites - unbelievable; a European River Cruise onboard the AMASerena floating gently down the Danube River with their included shore excursions and local wines – nothing like it! The idea list for a Mother's Day family trip with her children is truly endless. But that's what Andrea and I do...we can create all of those 'wow' moments to make every person feel so very special.
Want to Start your Own Travel Agency?
Contact us, by calling 888-582-2150 or register for an upcoming franchise webinar, for more information about starting a travel agency with Cruise Planners.