Koepf joins Cruise Planners in newly-created Vice President role after 30 years as an influential travel agent advocate
Cruise Planners, an American Express Travel Representative, welcomes Scott Koepf as Vice President of Strategic Development to the nation's leading home-based travel agency network.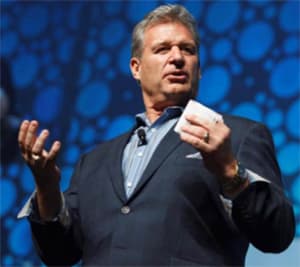 Koepf joins Cruise Planners after making the switch from competing travel franchise organization, Avoya. For Koepf, the switch was a logical one to make, noting that Cruise Planners' industry recognition and legacy of innovation make them a standout when it comes to travel franchises. This move mirrors that of Cruise Planners VP of Sales and Marketing, Theresa Scalzitti, who chose Cruise Planners after supervising host agency partnerships at Royal Caribbean International.
"I've known Scott for more than 20 years and we are excited for him to join our powerhouse executive team," said Michelle Fee, CEO and founder of Cruise Planners, an American Express Travel Representative. "His impressive background in the travel industry allows us to tap into his diverse experience, skills and knowledge. Having Scott on our team will help us continue our mission to innovate, grow and evolve."
This newly created role affirms Cruise Planners' commitment to franchisee's business development as Koepf will support the growth of the Cruise Planners network by leading the Training and Events teams and exploring new opportunities for strategic development. Koepf's natural motivational training style and keen marketing and sales experience will be an asset for Cruise Planners franchise owners.
Cruise Planners, known throughout the travel agency industry for its signature "Cruisitude™," will welcome Koepf in March 2018. "Cruise Planners' reputation and innovations are exceptional, and I am thrilled to join Michelle, Vicky and the rest of the Cruise Planners team. Not to mention my lifetime desire to wear green shoes will now be fulfilled," quipped Koepf.
For more than 30 years, Koepf has held a variety of roles within the cruise industry including travel franchise owner, onboard entertainer and various leadership roles with brands such as Cruise Holidays, Nexion and most recently, Avoya Travel where he served as Senior Vice President of Sales – experience that will serve him well in his new role.
"I am beyond excited to be joining the Cruise Planners family and be a part of such a successful and fast-growing company," Koepf said. "I started my career in travel as a cruise franchise owner and now, I am coming back full circle to help each Cruise Planners franchisee achieve their goals."
In the industry, Scott has served as president of NACTA and has been a champion for travel agents focused on growing the group's membership and he is often quoted as an expert in travel media.
"Cruise Planners dares to be different and since we are a unique company we welcome Scott for being a proven leader and advocate for travel agents," Fee said. "I am a strong believer that when agents are having fun, then they listen and learn – Scott has a proven track record as a great communicator, entertainer and leader and knows the true meaning of Cruisitude™!"