Cruise Planners, an American Express Travel Representative, hosted its second annual Land Symposium at the all-inclusive Hard Rock Hotel & Casino Punta Cana in Dominican Republic.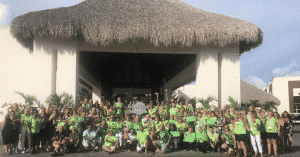 The three-day workshop was organized for 150 Cruise Planner Travel Advisors and more than 45 suppliers. Special guests and keynote speakers included high-level executives from Apple Leisure Group, Trafalgar and ShoreTrips. Cruise Planners Travel Advisors received inspiring presentations on global destinations, escorted tours and all-inclusive resort vacations, as well as informative agent and preferred partner panel discussions to fuel their group sales and strategic marketing for a successful year.
Highlights of Cruise Planners Land Symposium included:
Preferred Partner Round Tables: Advisors heard firsthand from more than 15 preferred land suppliers who are the best in the industry
Land Lubbers Panel Discussion: Hosted by Vicky Garcia, COO and co-owner of Cruise Planners, included four Cruise Planner franchisees who are very successful selling land vacations
Executive Presentation: Presented by Scott Wiseman, president Apple Leisure Group, who provided personality-based sales suggestions that advisors could immediately implement
Keynote Presentation: Melissa da Silva, president of Trafalgar, reviewed the current state of escorted tours and provided excellent insight as to why it is a great choice for so many customers
Featured Speakers: Julie and Barry Karp, president and founders of ShoreTrips, provided unique insights into how to customize trips and exceed customer expectations
Partner Presentations: Yankee Leisure Group/Amtrak Vacations and Railbookers explained how the resurgence of rail travel is a huge opportunity for Cruise Planner Travel Advisors
Sandals and Beaches Resorts: Brought the audience up to date on new elements they are providing our mutual customers
All-Inclusive and Escorted Tour Panels: Hosted by Laura Blanco, director of sales, Cruise Planners provided important differentiators between various brands and travel styles
One-on-One Breakout Sessions and Networking: Highlight for both advisors and suppliers to build relationships and specific suggestions for increased sales
Continuing its domination in land travel sales, Cruise Planners announced it was up 29 percent for 2019 over 2018, and for 2020 it's already almost double that. While cruising continues to grow at a strong pace, the land sales part of the franchise network has outpaced the industry as a whole.
This follows the company's recent back-to-back awards from Delta Vacations, Playa Hotels & Resorts and The Travel Corporation, and huge success with Sandals Resorts International ranking Cruise Planners No. 1 in the US and world in land-based sales:
Diamond Elite status with Delta Vacations
2018 Top Selling Home-Based Network for USA from Playa Hotels & Resorts
2018 Host Agency of the Year from The Travel Corporation
Top Host Agency – U.S., Top Host Agency – Worldwide, and Best of the Best for Sandals and Beaches Resorts
"Firsthand experience of a product or destination is key for growing business, which is why Cruise Planners has a strong relationship with our travel partners and continue investing in our travel advisors and providing them a variety of targeted training online and in-person," says Vicky Garcia, COO and co-owner of Cruise Planners. "We want our agents to continue their education and growing their knowledge in all aspects of travel so they can reach their sales goals."
Last year's inaugural Land Symposium was hosted at the all-inclusive Hyatt Ziva Los Cabos in Mexico, while next year's event will be expanded and announced shortly.
To support the brand's CP Cares initiative, event goers were invited to bring in school supplies to support local children and they delivered in a big way. More than 500 items were donated, including pens, pencils, crayons, notebooks, chalk, calculators to name a few.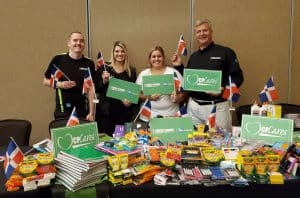 Cruise Planners provides several training opportunities every year in the forms of virtual, in-person and experiential training to ensure you have the knowledge necessary to be successful.
STAR University (new franchise training): comprehensive six-day program in Fort Lauderdale featuring tailored seminars and workshops, networking and two ship tours
Cruisitude Academy: online training designed to be accessed anytime from anywhere
Annual Convention: featuring travel advisor panels, executive presentations and partner sessions on new products
Seminars at sea: immersive program allowing you to learn about the cruise product first-hand
Regional boot camp training: designed to help you find ways to improve and grow your business, share ideas and expertise with your fellow franchisees and Cruise Planners team
Fam trips: exclusive familiarization trips through various destinations in conjunction with preferred land, hotel and destination partners
Intensive Luxury & Land Vacation Training: including industry executives and a focus on giving you ideas and a guide to grow your luxury and land business.
Cruise Planners invites you to learn more about investing in a travel franchise by signing up for a free webinar.