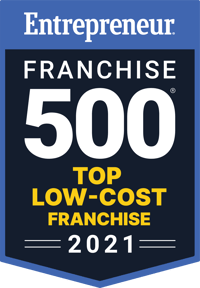 Cruise Planners, was just named as the No. 3 overall low-cost franchise to own for businesses under $50,000 in Entrepreneur Media's StartUps issue. This is on the heels of Cruise Planners being named the No. 1 travel franchise by Entrepreneur magazine earlier this year. Other notable brands in the top five were home cleaning companies and real estate agencies, so those who have a passion for travel, can own the best, low-cost franchise with Cruise Planners.
"Why would you want a franchise to clean someone's mess, when you can help plan their next vacation," mused Cruise Planners CEO, Michelle Fee. "Travel is more fun, and who doesn't love to travel? The surge in travel is coming."
Always a Low-Cost Model
A low-cost franchise can provide many of the same benefits as their more expensive counterparts, but at a fraction of the cost. Cruise Planners was designed that way from the start as a low-cost value and has been recognized as a low-cost franchise by Franchise Business Review as well.
Cruise Planners has continued to dominate for 18 years on Entrepreneur's annual Franchise 500 Ranking as the No. 1 Travel Franchise based on the brand's outstanding performance of more than 150 data points including costs and fees, size and growth, support, financial strength and stability, and brand power. The annual Franchise 500 list is a highly competitive and a sought-after honor across the franchise industry and serves as a source to help aspiring entrepreneurs identify reputable franchises.
"Many people dream of owning their own business, but they assume that dream is financially out of reach," says Entrepreneur's editor-in-chief, Jason Feifer. "With this list of promising opportunities at low costs, we want to let our audience of entrepreneurs know: A great franchise may be more affordable than they think!"
Save $4,000 Now
For a limited time, entrepreneurial-spirited individuals who are interested in owning a Cruise Planners® franchise, can invest in their own business for a low-cost, one-time franchise fee of $6,995 – a savings valued at $4,000. Special incentives are available for active and retired military, first responders and travel industry professionals.
"Our home-based travel businesses were designed around low-cost overhead, so we have always been low-cost, but we are deepening that value with a limited-time offer by saving $4,000 off," Fee said. "Now is the best time to invest in a travel franchise to set yourself up to capitalize on the surge of pent-up demand for travel."