Travel event held at Secrets the Vine in Cancún, Mexico to inspire advisors' luxury group sales and marketing to increase sales in this growing market
Cruise Planners, an American Express Travel Representative, the nation's largest travel agent network with more than 2,500 travel advisors in all 50 states, recently hosted their 2019 Luxury and River Cruise Forum at Secrets the Vine in Cancún, Mexico.
The action-packed event was attended by 150 Cruise Planners travel advisors and 50 suppliers, who included high-level executives from Azamara Club Cruises, Ponant Yacht Cruises and Expeditions, Viking Cruises and Silversea Cruises.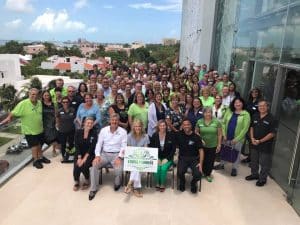 Even with the nation's largest home-based travel advisor network, Cruise Planners maintains the atmosphere of the "CP Family" and believes in the tight relationships formed between the Home Office Team, its travel advisors and travel partners – Cancún, Mexico.
Luxury travel means higher commissions from higher ticket vacations. Cruise Planners developed the Luxury and River Cruise Forum to help its nation-wide network of travel advisors grow their luxury travel niche with best practices when it comes to boosting travel sales, and how to attract, service and retain luxury clients.
"Affluent travelers seek out advisors who can anticipate and exceed their travel desires and needs, making Cruise Planners travel advisors a match made in heaven," said Michelle Fee, CEO and founder of Cruise Planners. "Our travel advisors are the best in the industry and we're invested in each of our travel advisors reaching their sales goals by giving them the best training in the business."
Hosted by Cruise Planners Executives
At Cruise Planners training events, Cruise Planners advisors can expect to hear from the cream of the crop from executives with decades of travel industry experience – and more than a century between them – have an active hand in planning and leading events such as the Luxury and River Cruise Forum.
Michelle Fee, CEO and founder, led the Luxury Agent Panel, River Cruise Panel, and a session utilizing Cruise Planners' American Express Luxury Resources
Theresa Scalzitti, Senior Vice President of Sales and Marketing, led the discussions with Luxury Cruise Partners, Expedition Panel, South Pacific Panel and sessions on how to use CP Tools and Cruise Planners' American Express Luxury Resources
Scott Koepf, Vice President of Strategic Planning, led the Luxury Land Panel, Luxury FITs, Luxury Resorts, and sessions on how to use CP Tools and providing Luxury Customer Service
Insights from Travel Executives
One of the best ways to understand a travel product is straight from the source, so executives from leading travel partners presented and shared what differentiated their offerings and what clients would be ideal for their brand. In addition to joining panels, travel partners met with Cruise Planners travel advisors during one-on-one networking meetings and brainstormed tangible actions advisors can take after leaving the event. Keynote speakers at the event included:
Larry Pimentel, President and CEO of Azamara Club Cruises
Mark Conroy, Managing Director of the Americas, Silversea Cruises
Michele Saegesser, Vice President of Sales and National Accounts, Viking Cruises
Edie Rodriguez, Brand Chairman and Corporate Special Advisor, Ponant Cruises Americas
Fee adds, "Cruise Planners has a strong relationship with our luxury travel partners, which is why we believe its is vital for advisors to attend the luxury and river cruise forum. They left Mexico with tangible takeaways to grow their business. Cruise Planners plans to continue being a force in all types of travel."
Interested in joining the largest network of home-based travel advisors? Sign up for a free webinar today.