In honor of World Entrepreneurs' Day on August 21st, the epitome of a (woman!) entrepreneur who has overcome obstacles to make her business a success is Michelle Fee, CEO and founder of Cruise Planners, an American Express Travel Representative.
Michelle founded Cruise Planners in 1994 when the internet was still in its infancy, before working from home was even heard of, much less travel advisors exclusively specializing in cruises.
"I was a young mom who didn't have a college degree. I had two small children. We were living paycheck to paycheck, but I knew I had to take a risk to start this home-based model recruiting and training travel agents to work remotely," said Michelle. "For the first three years in business, I didn't take a paycheck, instead I opted to continually reinvest in the business. We started with just five franchisees."
This unconventional travel agency changed the travel world. Michelle's visionary leadership has spearheaded Cruise Planners to become the nation's largest network of home-based travel agents with more than 2,500 travel advisors across all 50 U.S. states today and has evolved to sell all types of travel – cruises, guided land tours and all-inclusive resort vacations.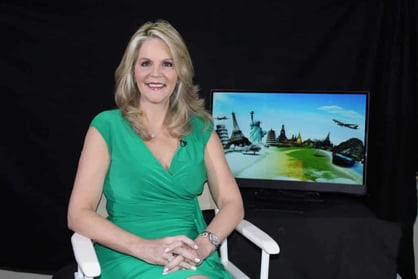 Here are seven of "Michellosphies" to be a successful entrepreneur:
If we don't change, we will become dinosaurs – extinct: The world is moving at such a fast pace, we too need to be moving. I've worked my whole life and I'm really proud of what we've built, but I know we can't stand still. We have to continually adapt and embrace change in order to stay ahead.
Do What is Right, Not What is Easy: My dad gave me this piece of advice that I still follow today. To grow as a company, you have to challenge yourself by asking, "Is this right, or is this easy?" This means running a company that constantly innovates, pushes the envelope, and jumps into discomfort. As a hair salon owner, he taught me the important lessons of hard work. My first job was sweeping hair up on the floor of the salon, and that humble experience has taught me that nothing is below me and to appreciate every role in a company – no matter how small.
Grow from Criticism: The best way to learn about your business is to ask questions. Call your customers and find out if they are happy with your services. Some may criticize and give you an earful, but this is invaluable feedback and it teaches you how to be better.
Be a Unicorn: Figure out how to create a competitive advantage in your industry. There may be many other companies that do exactly what you do – figure out how to stand out in the crowd. Be different… be unique!
Build It or Buy It: At the beginning of my career, technology was new to me, so we needed to invest in existing tech products or build our own to meet our unique needs. I decided to invest in building our own and that investment has paid off… Big time. Today, Cruise Planners is known as an innovative technology and marketing company in the travel industry. That investment constantly proves to benefit us and our franchise owners.
Hire People Smarter Than You: I am not afraid to recruit someone who knows more than me about a given topic. In fact, today, we have the strongest executive team and Home Office Team we have ever had because I put my pride aside and found the right people who can challenge me to get the best results and the job done.
Remember Where You Started: Our first-ever Cruise Planners franchisee is still with us today, 25 years later, and I think that is a testament to our dedication to our franchise owners and demonstrates our loyalty.
Entrepreneur magazine's Franchise 500, the world's first, best and most comprehensive franchise ranking has ranked Cruise Planners the "No. 1 Travel Franchise to Own" for 16 straight years. Furthermore, Michelle has cemented her place as one of the industry's leaders and has garnered a litany of awards, including being named one of South Florida Business Journal's Power Leaders, Florida Trend's Florida 500 Top CEOs, an Ernst & Young Entrepreneur of the Year National Finalist, and an inductee into the Cruise Lines International Association (CLIA) Hall of Fame.
Cruise Planners is headquartered in Coral Springs, Florida and consistently ranks as Top Workplace in South Florida by the Sun Sentinel with jobs in technology, marketing, sales and business development all within the hospitality industry. As a woman-owned business, Cruise Planners has a strong female leadership team and supports its nationwide network of home-based travel advisors from South Florida.
If you have an entrepreneurial spirit and a passion for travel, then a Cruise Planners franchise might be for you. Reach out to us today and find out what makes owning a Cruise Planners franchise one of the best entrepreneur opportunities and how you can thrive with this work-from-anywhere career!