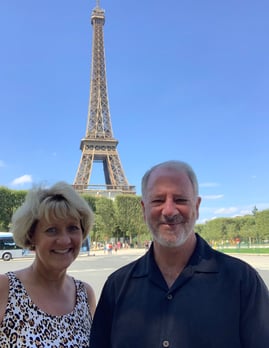 How do you thank someone who has put their life on the line to defend our freedom? It is hard to fully encapsulate the gratitude we feel for the sacrifice that so many veterans and their families make in order to serve our country, but we try once a year to express it as much as we can.

For us here, our gratitude toward veterans is personal-- many of our franchise owners and travel advisors are former and current military members, and we know it takes a very special heart to serve.
Today, we take a closer look at one of our advisors, Bill Brown, a 21- year U.S. Marine veteran, who owns and operates a Cruise Planners franchise in Virginia Beach with his wife Sandy, and why he chose this career after serving in the U.S Military.
What branch of the military were you in?
I spent 21 years as an officer in the U.S. Marine Corps followed by another 18 years working as a government employee working for the Department of Defense.
What does Veterans Day mean to you?
Veterans Day is always a special day for our family and friends. It is a time to reflect on the contribution of the small percentage of our national population who continue to put nation before self and are willing to give their all for a higher calling. It's also next to the Marine Corps Birthday which is a great time to reflect on the courageous sacrifices of this nation's greatest fighting force (I admit I'm a bit biased here). My passion for world travel started with my extensive global travel while on active duty and Veterans Day reinforces my need to continue to serve others, albeit in a different form.

Why did you choose Cruise Planners?
I spent a good deal of time researching various travel franchises and went to different travel shows to talk with various company leaders and franchise owners. One of the first things I realized about the Cruise Planner's corporate leadership model is they exemplified a servant leadership model which is a leadership style that I was familiar with in the Marine Corps. Servant leadership is a leadership philosophy that has the leaders of the organization place the needs of the team (CP Franchisees) ahead of their own interests. I bought this franchise in March of 2020, right at the start of the pandemic, and from day 1 the CP leadership team, from Michelle on down, did everything in their power to help both new and old franchisees survive the dramatic downturn in travel. From reducing monthly/annual fees to retaining incentive ratings at previous levels, the home office went above and beyond what other corporations were doing to ensure survival of their franchise owners. All of this support came with a drop in the corporate bottom line and, I'm pretty sure, at the expense of many of our corporate leadership salaries. CP's servant leadership model was also on full display at my first corporate convention when, despite the dramatic drop in revenue for the company, our Home Office introduced some 20+ new technology improvements to help franchise owners improve their business efforts. They didn't spend their time telling us what WE need to do, they instead showed us what they were doing to help us succeed. So while many other businesses were "licking their wounds", our leadership was busy innovating to help us succeed after the most devastating time for the travel industry. I could not be prouder to be part of this organization.

Why is Cruise Planners a good option for veterans?
In addition to offering financial incentives for veterans to buy a Cruise Planners franchise, they provide custom marketing materials to help you sell to the military community. They value our service to our country and recognize our initiative, discipline, and desire to continue to serve others with their travel needs.

Thank you for your service Bill. We honor and appreciate all of our veterans in the CP Family!