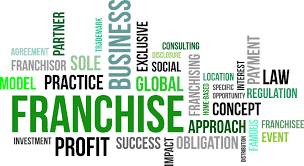 The concept of Franchising is over 150 years old. The legal terms of franchising is defined by two definitions…one, a company provides the rights to sell products or services in a specific territory. Secondly, franchise refers to a two-party contract offered by a chain, and gives rights to operate as an outlet in a particular area, for an initial fee and offers a percentage of the gross sales of the business. The franchise company can also provide the training, marketing, and tools necessary for the start-up of a franchise business.
Research shows that many franchise networks boast of being the first and oldest in the country. Brewing companies in the UK thought their beer was the first franchise. In America, Isaac Singer was credited as the inventor of the franchise industry with his historical sewing machines. Once called "units," their business concept of operations became very popular, and forged ahead as the recipe for success, and others joined in with their type of expanding businesses and concepts.
"Anchored In Your Success" Cruise Planners has created Proprietary software, technology, and a travel agent university that aids you in selling your products and working smart for success.
As an owner of the Franchise Cruise Planner/American Express Travel Agency, you can trust:
Cruise Planners Franchising /American Express never sees or shares your client database
Own your own travel agency business
Become part of a national cruise/tour travel agency and one of the best franchises to own
Low overhead, work from home franchise
Cruising has been the fastest growing segment of the travel industry for over 20 years, and it is still booming! Our unique cruise franchise program is for those with no travel industry experience, but who are committed to building a successful business!
As a franchise owner, you would enjoy the many benefits such as:
Highest Commission Levels In The Industry

Exclusive Cruise Planners Bonus $ Program

Secure Client List

Marketing/Advertising Programs

Exclusive Lead/Website Programs

State of the Art Technology

Extensive Group Inventory

Training Programs

Industry Benefits
Taking a look back to 150 years of franchising tells us one thing…it has been proven highly successful, but there is one more thing to think about – do you think that ANY of these franchises were able to open their doors for under $10,000 in investment, which includes benefits and perks? Think hard because that is exactly what you get by going with Cruise Planners Express home-based franchise opportunities.