CORAL SPRINGS, Fla. July 6, 2022 – As the nation's largest home-based travel agent franchise network, Cruise Planners is thrilled to be recognized at #18 on Travel Weekly's prestigious 2022 Power List. This marks an impressive jump of five spots from last year's ranking and puts Cruise Planners in the top ten amongst leisure travel companies. Cruise Planners first made the list in 2013 at #44 and in that time, has steadily climbed to #18 with impressive year-over-year growth to become the powerhouse agency it is today.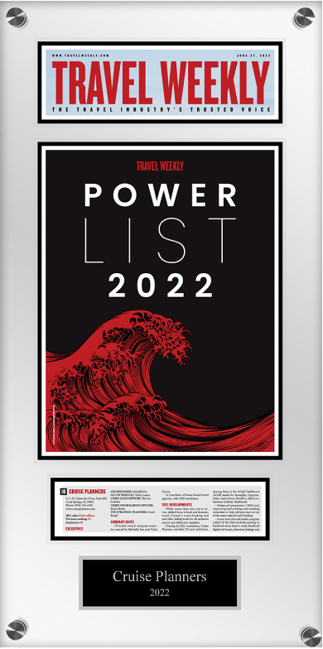 The Power List is determined by companies that typically has a minimum of $100 million in travel sales in the previous year. Despite the standstill in travel due to the pandemic, Cruise Planners has grown with an estimated sales revenue of $545 million. Rankings in 2021 were frozen to reflect the global shutdown for travel.
"Despite many obstacles, Cruise Planners has continued to thrive, and I attribute that to the perseverance of our incredible network of advisors and Home Office team," said Michelle Fee, CEO and co-founder of Cruise Planners. "We're looking forward to 2023 and are excited to unveil our signature list of new initiatives and innovations at this year's convention."
For the full profile, you can click here.